7th Annual APWA Equipment ROADeo
The APWA Operations and Maintenance Committee invite and encourage you to participate, and to allow participation by your maintenance workers, in the 7th Annual Equipment ROADeo at the APWA WA Fall 2017 Conference on October 5, 2017. The ROADeo is a chance for participants across the state to test their skills by maneuvering machinery through specific obstacle courses. Participants will demonstrate the skills it takes to perform the daily internal operations of the Public Works Departments throughout the state, and to have the opportunity to network with other public agencies on techniques and how to better serve the City, County, or State Agency they represent. Winners of the event then go to compete on a national level.
Events include:
Backhoe Skills
Frontloader Obstacle
Truck/Snow Plow Run
ROADeo venue:
Three Rivers Convention Center
Kennewick, WA
As the APWA WA ROADeo continues to grow (from 18 contestants the first year to triple that in 2016) so do the many sponsorship opportunities.  Click here to learn more about the available ROADeo sponsorships.
Registration Fee:
Registration Type

Member

Non-Member

ROADeo Only

Thursday only. Includes participation in 2 ROADeo events, meals and Thursday evening event.

$150

$200

ROADeo Add-On

Add a third event to your ROADeo registration

$75

$75

ROADeo Full Conference Registration

Includes the opportunity to participate in up to 3 ROADeo events, plus access to education sessions on Wednesday and Thursday as well as all conference meals and activities.
Early Bird - Aug 1-31
Regular - Sept 1 - Sept 21
Late - Sept. 22 - Oct 5






$395
$465
$525






$445
$525
$575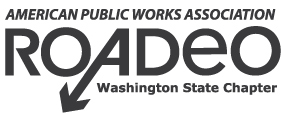 To participate in this fantastic event, register for the APWA WA Fall 2017 Conference, later this summer.
Winners of the event go on to compete at the national level at the Western Snow and Ice Conference.
Congrats to the 2016 APWA WA ROADeo winners:
Loader: Carl Kent, Spokane County
Truck / Snow Plow: Matt Mohney, Lewis County
Backhoe: Phil Dykstra, City of Lynden
Overall Winner: Matt Mohney, Lewis County
Download the official scoring and rules.
Think your team has what it takes?  Join us in Spokane this fall for the 2017 APWA ROADeo! For more information please contact:
Dan Wesley
dlwes61@q.com
253-709-0083

Sean Clark
sclark@ci.seatac.wa.us
206.973.4771
Erik Martin
erik.martin@lewiscounty.wa.gov
360-556-9093